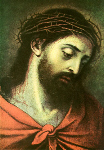 The Dolorous Passion of Our Lord Jesus Christ
From the Meditations of Anne Catherine Emmerich


London, Burns and Lambert [1862]


Scanned at sacred-texts.com, September, 2004. John Bruno Hare, redactor. This text is in the public domain. These files may be used for any non-commercial purpose, provided this notice of attribution is left intact in all copies, subject to the sacred-texts.com Terms of Service (http://www.sacred-texts.com/tos.htm).