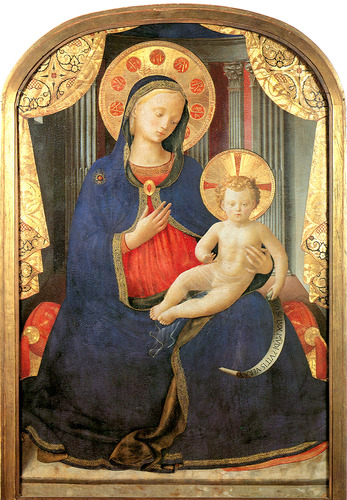 The Life of the Blessed Virgin Mary by Blessed Anne Catherine Emmerich
4.3 JOY AT MARY'S BIRTH IN HEAVEN.
In the moment when the newborn child lay in the arms of her holy mother Anna, I saw that at the same time the child was presented in heaven in the sight of the Most Holy Trinity, and greeted with unspeakable joy by all the heavenly host. Then I understood, that there was made known to her in a supernatural manner her whole future with all her joys and sorrows. Mary was taught infinite mysteries, and yet was and remained a child. This knowledge of hers we cannot understand, because our knowledge grows on the tree of good and evil. She knew everything in the same way as a child knows its mother's breast and that it is to drink from it. As the vision faded in which I saw the child Mary being thus taught in heaven through grace, I heard her weep for the first time.I often see pictures like this, but for me they are inexpressible and probably for most people not quite comprehensible; therefore I do not relate them.
CONTENTS | NEXT | FOOTNOTES
Copyright ©1999-2023 Catholic Support Services all rights reserved