Poems of SR. TERESA, Carmelite of Lisieux
known as The "Little Flower of Jesus,"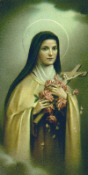 "Thou, O Lord, hast been the only object of my
songs in the place of my pilgrimage."

Ps. CXVIII, 54.
Translated by S.L. EMERY,

Author of the "Inner Life of the Soul."

12139
Boston
ANGEL GUARDIAN PRESS CARMELITE CONVENT
Copyright, 1907 by CARMELITE CONVENT
DEDICATION
TO
THE LITTLE FLOWER OF JESUS
BLOOMING IN PARADISE, WHOSE HEAVENLY FRAGRANCE HAS
REFRESHED MY SOUL DURING MANY HOURS OF
EXILE HERE BELOW, THE FOLLOWING
PAGES ARE LOVINGLY DEDICATED
BY
THE TRANSLATOR.





Introduction
First Part
Second Part
Third Part
Fourth Part
Fifth Part