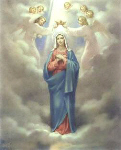 The Glories Of Mary

by ST. ALPHONSUS LIGUORI

OF THE VIRTUES OF THE MOST HOLY MARY.

St. Augustine says, that in order to obtain more certainly and abundantly the favors of the saints, it is necessary to imitate them, for when they see us practising the virtues which they practised, then they are more moved to pray for us. The queen of saints, and our first advocate, Mary, after she has rescued a soul from the grasp of lucifer, and has united her to God, wishes her to begin to imitate her example, otherwise she will not be able to enrich her, as she would wish, with her graces, seeing her so opposed to her in conduct. Therefore Mary calls those blessed who diligently imitate her life; "Now, therefore, children, hear me ; blessed are they that keep my ways." He who loves, is like, or seeks to make himself like, the person beloved, according to the celebrated proverb: Love either finds or makes like: "Amor aut pares invenit aut facit." Hence St. Jerome tells us, that if we love Mary, we must seek to imitate her, for this is the greatest honor we can pay her. Richard says, those are and may call themselves true children of Mary, who strive to imitate her life: "Filii Mariae imitatores ejus." Let the child then endeavor, concludes St. Bernard, to imitate the mother, if he desires her favor; for when Mary sees that he honors her as a mother she will treat and favor him as a child.
Although there is little recorded in the Gospels of the virtues of Mary in particular, yet, when they tell us that she was full of grace, it is given us to understand that she had all the virtues, and all in the heroic degree. So much so, that, as St. Thomas says, where as the other saints have excelled, each in some one particular virtue, the blessed Virgin has excelled in all, and in all the virtues has been given us for an example. And St. Ambrose also says: Such was Mary, that her life alone is the example for all. And he afterwards adds: Let the virginity and life of Mary be to you as an image, in which the form of virtue shines forth. From thence obtain the model of your life . . . what you should correct, what avoid, what retain. And because, as the holy Fathers teach, humility is the foundation of all the virtues, let us in the first place consider how great was the humility of the mother of God.
---