My Life In Prayer

Complete Prayer Book
FESTIVALS OF OBLIGATION.

FESTIVALS OF OBLIGATION.

In addition to the Sundays, the following are Holydays of obligation in every diocese of the United States:

Immaculate Conception, Dec. 8.
Nativity of our Lord, Dec. 25.
Circumcision, Jan. 1.
Assumption, Aug. 15.
Ascension, forty days after Easter.
All Saints, Nov. 1.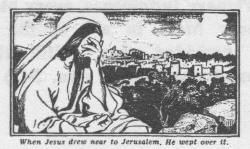 When Jesus drew near Jerusalem, He wept.
---