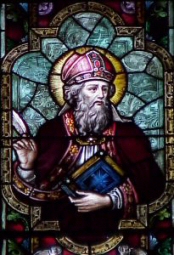 Enchiridion On Faith, Hope and Love
by Saint Augustine
CHAPTER XIX
ALMSGIVING AND FORGIVENESS
70. We must beware, however, lest anyone suppose that unspeakable crimes
such as they commit who "will not possess the Kingdom of God" can be perpetrated
daily and then daily redeemed by almsgiving. Of course, life must be changed for
the better, and alms should be offered as propitiation to God for our past sins. But
he is not somehow to be bought off, as if we always had a license to commit crimes
with impunity. For, "he has given no man a license to sin"154--although, in his
mercy, he does blot out sins already committed, if due satisfaction for them is not
neglected.
71. For the passing and trivial sins of every day, from which no life is free,
the everyday prayer of the faithful makes satisfaction. For they can say, "Our
Father who art in heaven," who have already been reborn to such a Father "by
water and the Spirit."155 This prayer completely blots out our minor and everyday
sins. It also blots out those sins which once made the life of the faithful wicked, but
from which, now that they have changed for the better by repentance, they have
departed. The condition of this is that just as they truly say, "Forgive us our debts"
(since there is no lack of debts to be forgiven), so also they truly say, "As we forgive
our debtors"156; that is, if what is said is also done. For to forgive a man who seeks
forgiveness is indeed to give alms.
72. Accordingly, what our Lord says--"Give alms and, behold, all things are
clean to you"157--applies to all useful acts of mercy. Therefore, not only the man who
gives food to the hungry, drink to the thirsty, clothing to the naked, hospitality to
the wayfarer, refuge to the fugitive; who visits the sick and the prisoner, redeems
the captive, bears the burdens of the weak, leads the blind, comforts the sorrowful,
heals the sick, shows the errant the right way, gives advice to the perplexed, and
does whatever is needful for the needy158--not only does this man give alms, but the
man who forgives the trespasser also gives alms as well. He is also a giver of alms
who, by blows or other discipline, corrects and restrains those under his command,
if at the same time he forgives from the heart the sin by which he has been wronged
or offended, or prays that it be forgiven the offender. Such a man gives alms, not
only in that he forgives and prays, but also in that he rebukes and administers
corrective punishment, since in this he shows mercy.
Now, many benefits are bestowed on the unwilling, when their interests and
not their preferences are consulted. And men frequently are found to be their own
enemies, while those they suppose to be their enemies are their true friends. And
then, by mistake, they return evil for good, when a Christian ought not to return
evil even for evil. Thus, there are many kinds of alms, by which, when we do them,
we are helped in obtaining forgiveness of our own sins.
73. But none of these alms is greater than the forgiveness from the heart of a
sin committed against us by someone else. It is a smaller thing to wish well or even
to do well to one who has done you no evil. It is far greater--a sort of magnificent
goodness--to love your enemy, and always to wish him well and, as you can, do well
to him who wishes you ill and who does you harm when he can. Thus one heeds
God's command: "Love your enemies, do good to them that hate you, and pray for
them that persecute you."159
154Ecclus. 15:20.
155John 3:5.
156Matt. 6:9-12.
157Cf. Luke 11 :41.
158This is a close approximation of the medieval lists of "The Seven Works of Mercy." Cf. J.T.
McNeill, A History of the Cure of Souls, pp. 155, 161. (Harper & Brothers, 1951, New York.)
159Matt. 5:44.
Such counsels are for the perfect sons of God. And although all the faithful
should strive toward them and through prayer to God and earnest endeavor bring
their souls up to this level, still so high a degree of goodness is not possible for so
great a multitude as we believe are heard when, in prayer, they say, "Forgive us our
debts, as we forgive our debtors." Accordingly, it cannot be doubted that the terms of
this pledge are fulfilled if a man, not yet so perfect that he already loves his
enemies, still forgives from the heart one who has sinned against him and who now
asks his forgiveness. For he surely seeks forgiveness when he asks for it when he
prays, saying, "As we forgive our debtors." For this means, "Forgive us our debts
when we ask for forgiveness, as we also forgive our debtors when they ask for
forgiveness."
74. Again, if one seeks forgiveness from a man against whom he sinned--
moved by his sin to seek it--he should no longer be regarded as an enemy, and it
should not now be as difficult to love him as it was when he was actively hostile.
Now, a man who does not forgive from the heart one who asks forgiveness
and is repentant of his sins can in no way suppose that his own sins are forgiven by
the Lord, since the Truth cannot lie, and what hearer and reader of the gospel has
not noted who it was who said, "I am the Truth"160? It is, of course, the One who,
when he was teaching the prayer, strongly emphasized this sentence which he put
in it, saying: "For if you forgive men their trespasses, your Heavenly Father will
also forgive you your trespasses. But if you will not forgive men, neither will your
Father forgive you your offenses."161 He who is not awakened by such great
thundering is not asleep, but dead. And yet such a word has power to awaken even
the dead.